The Migraine Center
18% of women and 6% of men
suffer from migraines*
The Migraine Center is committed to comprehensive treatment, research and new medical trials to alleviate debilitating symptoms.
The Migraine Center at Brown Neurology takes a multidisciplinary approach to migraine and headache management, including both neurological and care as well as physical therapy. This means we coordinate care across multiple medical subspecialties including Ear, Nose & Throat (ENT), OB-GYNS, rheumatologists, psychiatrists and primary care physicians.
Our mission is to deliver high level migraine and headache care, research, new medical trials, and curriculum to educate the medical community on treatments and referrals.
Serving the Southeastern New England community, the Migraine Center at Brown Neurology provides the following medical treatments:
Botox injections
Trigger point injections
Nerve Blocks
Infusion Therapy – prevention and emergency/urgent treatments 
Oral medications, including:

Triptans (

sumatriptan)

Ergots (

Dihydroergotamine)

CGRP medications (Ubrogepant and Rimegepant)
Meet Your Migraine and Headache Team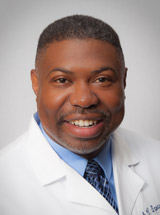 Roderick C. Spears, MD
Endowed Chair of Migraine & Chief of the Headache Division
Dr. Spears is the inaugural Endowed Chair of Migraine and Chief of the new Headache Division at Alpert Medical School at Brown University and Brown Neurology.  He is board certified in Neurology and Headache Medicine and has contributed to the field through education/teaching of medical students, residents, and fellows, and published in peer review journals. Previously he served as the Regional Medical Director of Neurology and a headache specialist at the University of Pennsylvania. A Fellow of the American Headache Society and the American Academy of Neurology, he is a graduate of the Diversity Leadership Program (2015) and the Transforming Leaders Program (2020) through the American Academy of Neurology. Dr. Spears received his Bachelor of Science degree from Michigan State University and his Doctor of Medicine from Wayne State University School of Medicine. He completed his internship in Internal Medicine at Akron General Medical Center and his residency in Neurology at Albert Einstein/Montefiore Medical Center in New York City, where he also served as the Chief Resident. He completed a Fellowship in Headache and Facial Pain at the Headache Institute at the St. Luke's/Roosevelt hospital in New York City and has practiced headache medicine for the last 18 years.
Garry Johnson, MD
Neurologist
Dr. Johnson is a board certified neurologist with extensive expertise in working within a Multispecialty Specialty Clinic affiliated with Brigham and Women's Hospital in Boston. He graduated from the Perelman School of Medicine at the University of Pennsylvania and completed a residency at Longwood Neurology Training Program. Specializes in Neurology, he works in Providence, RI and 6 other locations.
*Peterlin BL, Alexander G, Tabby D, Reichenberger E. Oligomerization state-dependent elevations of adiponectin in chronic daily headache. Neurology.2008;70:1905–1911.
PROVIDENCE
593 Eddy Street
Ambulatory Care Building,
5th Floor Providence, RI 02903
Phone: (401) 444-3032
WEST WARWICK
1 James P Murphy Hwy
West Warwick, RI 02893
Phone: (401) 606-4600
Fax: (401) 444-3205
 BILLING OFFICE
110 Elm Street, 1st Floor
Providence, RI 02903
Phone: (401) 444-7016