The Electroencephalogram
(EEG) Laboratory
The electroencephalogram (EEG) laboratory provides testing for patients with possible seizure disorders.
Our services include:
Diagnostic EEG

A diagnostic EEG measures brain wave activity to evaluate different areas of the brain during periods of sedation.

EEG 24-hour video

To detect intermittent seizure activity, it is often necessary to monitor a patients brain wave functions for 24 hours or more. During this time, the patient's activities are also monitored by video.
The EEG laboratory is staffed by six trained technologists who are responsible for the testing of persons of all ages.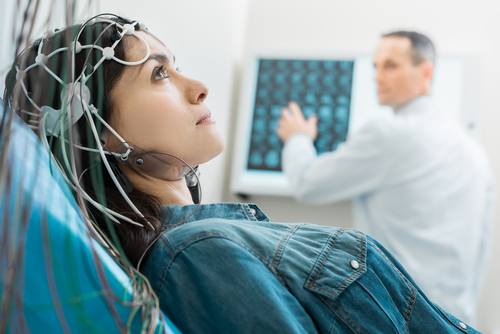 PROVIDENCE
593 Eddy Street
Ambulatory Care Building,
5th Floor Providence, RI 02903
Phone: (401) 444-3032
WEST WARWICK
1 James P Murphy Hwy
West Warwick, RI 02893
Phone: (401) 606-4600
Fax: (401) 444-3205
 BILLING OFFICE
110 Elm Street, 1st Floor
Providence, RI 02903
Phone: (401) 444-7016